Jurassic World: Dominion Dominates Fandom Wikis - The Loop
Play Sound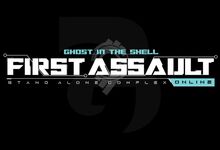 Ghost in the Shell: First Assault - Stand Alone Complex Online, also known simply as First Assault, was a free-to-play online first person shooter video game developed by South Korean developer Neople and published by Nexon.[1] The game is based on the universe of Ghost in the Shell: Stand Alone Complex.[1][2] First Assault was released worldwide on Steam as an early access title on December 14, 2015. On August 21, 2017, less than a month after the release of the major 2.0 "Renewal Update", Neople announced that the game was no longer profitable and that development would cease. On December 6, 2017, First Assault was officially shut down.
Gameplay
The game featured a cyborg customization feature which supported 5,000 different layouts. Players were able to share skills with nearby allies, allowing players to strategically support others, in addition to using thermoptic camouflage and power armor, and controlling various mecha.[3][4] There were PvE planned, but they never came to fruition.[5] Attributes which can be used to customise the player's character include power, which grants weapons; stealth, used for invisibility; detect, which allows the use of reconnaissance drones; and support, giving the ability to construct turrets.[2]
Characters
Players took on the role of classic Section 9 characters as well as brand-new recruits in a battles against the cyberterrorism group "The Kraken" that took place in cyberspace. Although both teams in a match used Section 9 characters, the game was designed so that each team would perceive themselves as Section 9 and their opponents as Kraken terrorists. Each character possessed their own special abilities and belonged to one of three main roles: offense-focused Assault, stealth-focused Infiltrator, and support-focused Specialist.
Assault characters
Infiltrator characters
Specialist characters
Development
The game began development in September 2011 by the same development team responsible for Dungeon Fighter Online.[3] In 2012, game publisher Nexon secured the rights to a Stand Alone Complex game from Kodansha.[6] In 2013, Nexon planned to release the game in the first half of 2014.[7] The first trailer for the game was unveiled during the G-STAR 2014 game exhibition in Busan.[1] The title was revealed as Ghost in the Shell: First Connection Online.[2] At the exhibition, representatives of Neople stated that the game will preserve the atmosphere of the original anime series as closely as possible.[8] The game will utilise the Gamebryo engine.[9] In 2015, the final title was revealed as Ghost in the Shell: First Assault - Stand Alone Complex Online.[10] A closed beta was running from October 1, 2015 to October 5, 2015.[11]
Gallery
Videos
References
External links