Welcome to the Ghost in the Shell Wiki
攻殻機動隊 Wiki のページへようこそ
Ghost in the Shell, a Japanese Manga and Anime franchise created by the manga artist Masamune Shirow, and filmmakers Mamoru Oshii and Kenji Kamiyama.
This wiki is brought to you by an open volunteer community of GitS fans, who strive to collect and consolidate everything known about the GitS Universe. You are welcome to join us and help by contributing to this wiki.
Warning: This wiki reveals plot details. Read at your own risk!
The Ghost in the Shell Wiki is still in its infancy. We currently have 579 articles, so there is not much information at this time. But that just means you have more opportunities to spread your love for GitS. Help us out by editing and creating more articles. You can also,
Featured Episode: Public Security Section 9, Once Again – STAND ALONE COMPLEX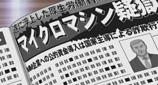 After 15 days of fierce fighting the Umibozu complete their operation to dismantle Section 9 by assassinating Kusanagi and capturing Batou. The dismantling of Section 9, spun by the media as a JSDF preemptive strike against a radical security unit planning a coup, provides the prime minister with the public support his party needs to win the lower house elections. Immediately after the election, in keeping with his promise, the prime minister discloses the information regarding The Laughing Man case, fingering Yakushima as the ringleader. Three months pass, during which Togusa tries to come to terms with all that has happened with Section 9. In his attempts to find information on the rest of the team he learns that the Major was killed and the remaining members of Section 9 are serving time in a state prison for high treason. The news upsets Togusa, and he resolves to assassinate the man responsible for Section 9's dissolution. Togusa intends to catch Yakushima as he arrives at the ruling party's headquarters, but before Togusa can follow through with his plan he is stopped by none other than Batou, who brings Togusa to Section 9's temporary HQ. Here, Togusa is informed that Section 9's disbandment and destruction was merely a ploy, news that he greets with joy. Elsewhere, Kusanagi and Aramaki meet with Aoi, the man responsible for the abduction of Serano six years ago. For his outstanding hacking skills Aramaki offers Aoi a job at Section 9, but Aoi politely refuses citing he is not a team player and wishing to remain in an unused library to sort through and read its collection of books. Public Security, Section 9, is once more an active security unit of the Japanese government, and its members once more settle into the routines they had at the beginning of the series.

Read More at Public Security Section 9, Once Again – STAND ALONE COMPLEX
Ghost in the Shell

Manga

Movies

Novels

Music

Video Games

Stand Alone Complex

Manga

Movies/TV/OVA

Novels

Music

Video Games

ARISE

Manga

Movies/TV/OVA

Stage Play

VR
If you see this, your JavaScript might be disabled or DiscordIntegrator plugin isn't working. If the latter, please contact a wiki administrator.
---