Welcome to the Ghost in the Shell Wiki
攻殻機動隊 Wiki のページへようこそ
Ghost in the Shell, a Japanese Manga and Anime franchise created by the manga artist Masamune Shirow, and filmmakers Mamoru Oshii and Kenji Kamiyama.
This wiki is brought to you by an open volunteer community of GitS fans, who strive to collect and consolidate everything known about the GitS Universe. You are welcome to join us and help by contributing to this wiki.
Warning: This wiki reveals plot details. Read at your own risk!
The Ghost in the Shell Wiki is still in its infancy. We currently have 477 articles, so there is not much information at this time. But that just means you have more opportunities to spread your love for GitS. Help us out by editing and creating more articles. You can also,
Featured Episode: The Fact of Being There – ANOTHER CHANCE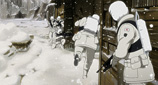 The Prime Minister calls a meeting of her cabinet to discuss the refugee situation. During the meeting several cabinet members attempt to distance themselves from the problem, while top-ranking military officials and local law enforcement voice their concern over the sudden influx of refugees to Dejima Island. When a recess is called the Prime Minister meets with Aramaki and Kusanagi, who alert her to the existence of "cyberbrain hubs". During her briefing with Aramaki, the Prime Minister reveals that her lack of clout is being taken advantage of by some members of her cabinet and exploited for their own ends. It seems that some members of the cabinet are attempting to force the PM out of the picture, and Section 9 is asked to look into the matter. Meanwhile, Ishikawa returns from the Korean Peninsula and briefs the rest of the Section 9 members on what he found out about Kuze's past. During the war Kuze was in the Ground Self Defense Army, and was ordered to Korea shortly after the country unified to safeguard the North Territories from the retreating People's Army. Kuze was assigned to a mechanized battalion, and his unit saw action in defense of a refugee village along a river near the Korea/China border. Since Article 9 of the Japanese Constitution prevents Japan's military from deploying overseas in any official capacity, a press blackout had been in effect, but this worked against Kuze's unit when rumors began to circulate that they were somehow involved in the refugee slaughter. One day, Kuze exchanged his gun for a camera and went into the refugee camp near his base, and after a time became an accepted and well-liked member of the refugee community. When the GSDA forces received orders to head home, Kuze disappeared, presumably heading over the border into China. Ishikawa reports that the last known location for Kuze was in Taiwan, and the briefing concludes on that note.
Read More at The Fact of Being There – ANOTHER CHANCE
Multimedia
Manga

Movies

TV Series

Original Video Animations

Stage Play


Novels

Music

Video Games

Universe
Characters
Featured Images
If you see this, your JavaScript might be disabled or DiscordIntegrator plugin isn't working. If the latter, please contact a wiki administrator.
---
Community content is available under
CC-BY-SA
unless otherwise noted.