Welcome to the Ghost in the Shell Wiki
攻殻機動隊 Wiki のページへようこそ
Ghost in the Shell, a Japanese Manga and Anime franchise created by the manga artist Masamune Shirow, and filmmakers Mamoru Oshii and Kenji Kamiyama.
This wiki is brought to you by an open volunteer community of GitS fans, who strive to collect and consolidate everything known about the GitS Universe. You are welcome to join us and help by contributing to this wiki.
Warning: This wiki reveals plot details. Read at your own risk!
The Ghost in the Shell Wiki is still in its infancy. We currently have 551 articles, so there is not much information at this time. But that just means you have more opportunities to spread your love for GitS. Help us out by editing and creating more articles. You can also,
Featured Episode: Face – MAKE UP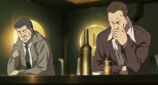 Aramaki calls a briefing to discuss the events surrounding the sudden appearance and mass suicide of the leaders of the Individual Eleven. Techs briefing the team think that the sole survivor of the group may be using a unique face made by a face-sculptor with an artistic background. Only two known people in the area have the skill to create a face of that caliber, making Section 9's job somewhat easier. Unfortunately, when Batou and Togusa arrive to speak with their assigned face sculptor they discover that the man has already been killed by someone imitating Paz. Section 9 sets out to clear his name, while ordering Paz to keep a low profile until the case is solved. When a detective working the face sculptor murder turns up dead, Paz asks to see the client list for the dead face sculptor, and happens across the name and face of an ex-lover. Paz tracks her down and learns from the woman that after he left her for no apparent reason, she became obsessed with Paz and eventually created an exact copy of his body and face. Eventually the two get in a struggle and one of them is killed. However, it is impossible to tell whether the surviving Paz is the real one or not, but Kusanagi muses that since both were nearly identical, it doesn't really matter.

Read More at Face – MAKE UP
Ghost in the Shell

Manga

Movies

Novels

Music

Video Games

Stand Alone Complex

Manga

Movies/TV/OVA

Novels

Music

Video Games

ARISE

Manga

Movies/TV/OVA

Stage Play

VR
If you see this, your JavaScript might be disabled or DiscordIntegrator plugin isn't working. If the latter, please contact a wiki administrator.
---