Welcome to the Ghost in the Shell Wiki
攻殻機動隊 Wiki のページへようこそ
Ghost in the Shell, a Japanese Manga and Anime franchise created by the manga artist Masamune Shirow, and filmmakers Mamoru Oshii and Kenji Kamiyama.
This wiki is brought to you by an open volunteer community of GitS fans, who strive to collect and consolidate everything known about the GitS Universe. You are welcome to join us and help by contributing to this wiki.
Warning: This wiki reveals plot details. Read at your own risk!
The Ghost in the Shell Wiki is still in its infancy. We currently have 540 articles, so there is not much information at this time. But that just means you have more opportunities to spread your love for GitS. Help us out by editing and creating more articles. You can also,
Featured Episode: Beware the Left Eye – POKER FACE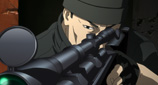 Representatives from the American Empire have arrived in Japan to discuss a new security treaty, and Section 9 plays a part in securing the building where the talks are taking place. In their off-time, members of the different security-teams strike up a poker game, but so far Saito has won every hand. Intrigued by this, the Tachikomas assigned to the security truck shift their discussion from the reason for the new security treaty to the reason that Saito is consistently winning a game of chance. For a raise in the game, Saito offers to share the story of how he acquired his poker face and why it's helping him win. In 2020, the American Empire invaded Central America in an effort to stop the drug trade. Tired of Japan's uninvolvement in the war, Saito decided to hire himself out as a mercenary, and was picked up by a group fighting to keep Mexico's provisional government in place. One day Saito caught wind of a Special Forces team, who happens to be UN Peacekeepers, with a tactical nuclear weapon that would be passing through the destroyed remains of (Monterrey), where Saito was stationed. Saito decided to engage the group, and managed to kill a total of three people before the spec ops team determined his location. Headed by Major Kusanagi, the remaining members of the team stormed the hospital Saito was camped out in, but not before he managed to kill two more men. Outnumbered and cornered, Saito believed that the Major would likely kill him in a one-on-one duel, but thought that she may not have the correct software to snipe him at medium range. Saito tried to engage Kusanagi before she could download the midrange sniping software, only for the Major to disable him by shooting out his left eye. The Major explained that she already had the software, and had intentionally acted as though she didn't to lure Saito out and neutralize him. Impressed with his ability, the Major took Saito with her, which was how he ended up working for Section 9. As the episode comes to a close, the possibility arises that the story which Saito just told was completely fabricated, perhaps using the plot of an old movie, (the episode's plot closely resembles the final act of Full Metal Jacket), but when Saito also wins the next round the Tachikomas wonder if he may have been telling the truth after all.

Read More at Beware the Left Eye – POKER FACE
Multimedia
Manga

Movies

TV Series

Original Video Animations

Stage Play


Novels

Music

Video Games

Universe
Characters
Featured Images
If you see this, your JavaScript might be disabled or DiscordIntegrator plugin isn't working. If the latter, please contact a wiki administrator.
---
Community content is available under
CC-BY-SA
unless otherwise noted.